Within New Zealand's Fiordland National Park, incredible sights are on offer for anyone willing to journey into this vast wilderness. While many come here to lay their eyes upon world-famous Milford Sound, there is also magic to be found off the beaten path. But at over one million hectares in size, Fiordland National Park is a place best explored with a local expert. And they don't come much more local, or expert, than guide Bard Crawford. Bard is a professional nature guide, Fiordland Outdoors Co.'s senior guide, a former expedition leader for National Geographic and one of the most charismatic New Zealanders you're likely to meet.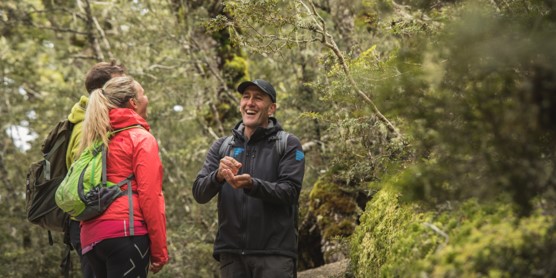 There aren't many guides in the region who offer the same level of all-round experience and knowledge as Bard. A guided trip through Fiordland with Bard is one where conversation and connection come before rehearsed commentary. You will find yourself enthralled by his effortless chat as he enlightens you with knowledge on Māori culture, botany, history, geology, farming, hunting and just about everything in between. With more than 20 years' experience under his belt, Bard's style of guiding demonstrates the perfect balance of professionalism and personality.
While Bard is highly respected for his skill and knowledge (he is regularly requested by international visitors by name), it is his ability to intertwine the Māori myths of the region into his storytelling that sets him apart. With knowledge of Te Reo (the indigenous language of New Zealand), Bard adds a deeper level to any Fiordland experience. And with a love of the bush that is abundantly clear, he brings the forest alive with his wisdom on bushcraft and botany. With a broad grin, he'll point out a tiny delicate native orchid growing in a mossy wall or take you to stand beneath a 100-year-old beech tree towering above the forest.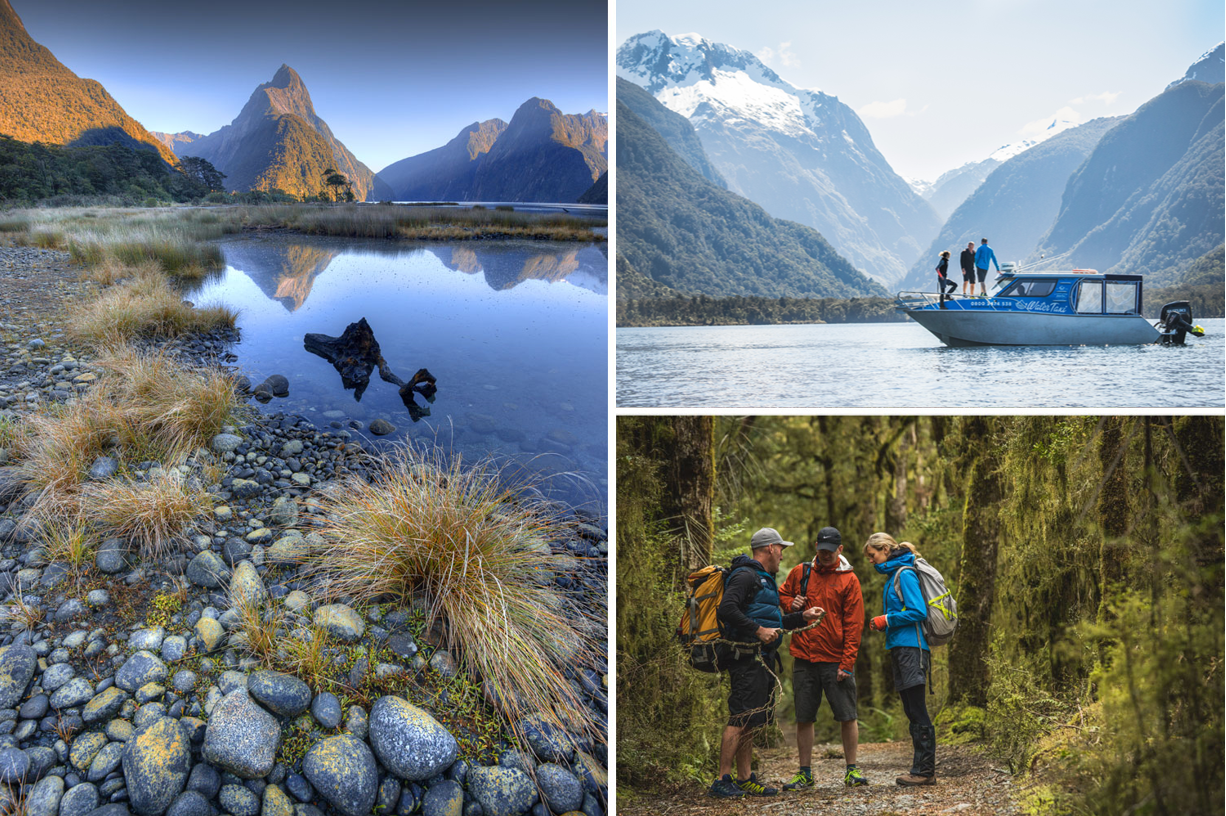 It is this style of gifted storytelling and infectious passion that brings a remote region alive and delivers that much sought-after authentic travel experience and at the end of the day, you will most likely find yourself in the company of a new friend. It's not uncommon to see Bard and his clients enjoying a quiet glass of Pinot Noir at the local bar as the sun goes down.
As an advocate for the guardianship of Fiordland National Park, Bard is involved in projects which preserve the cultural and ecological value of the area. He sits on the board of the Hollyford Conservation Trust, a charitable organisation which "actively protects and enhances native flora and fauna in harmony with cultural, social and recreational values". As well as this, Fiordland Outdoors Co. is the principal patron of the Fiordland Conservation Trust, an organisation working on ground-breaking conservation initiatives throughout Fiordland, Southland and the Sub-Antarctic Islands. Fiordland Outdoors Co. owners Christine and Mark Wallace took on the patronship after recognising the synergies of the work both organisations are doing on active guardianship of Fiordland and its surrounds.
Those who journey into Fiordland with Bard will reap the rewards of visiting the very locations that he and Fiordland Outdoors Co are involved in preserving and protecting. This is very much aligned with ID New Zealand's support to the Tiaki Promise.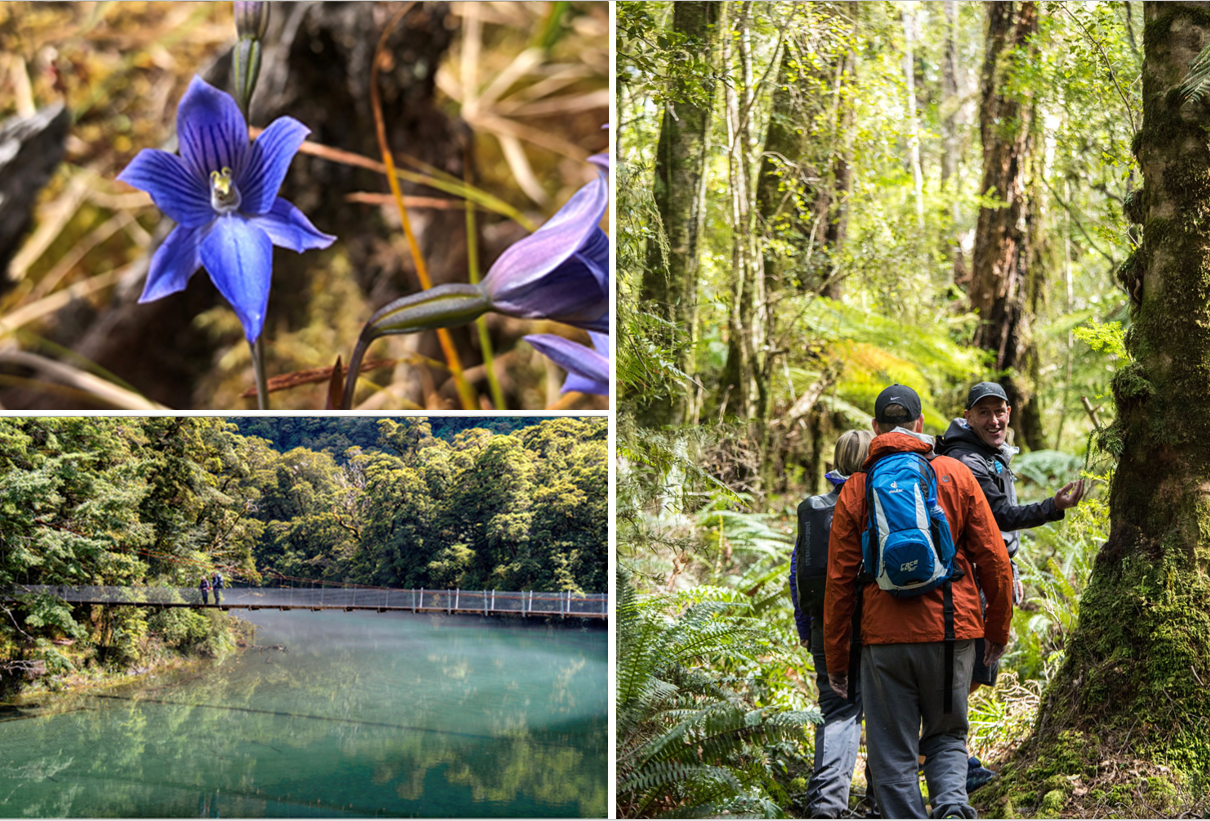 When heading out with Fiordland Outdoors Co. you may choose to start with a private boat charter on scenic Lake Te Anau, then come ashore for a short hike through lush beech forests to Lake Hankinson, a small glacial lake that 'time forgot'.
Or perhaps you prefer to visit the wilds of Northern Fiordland – a helicopter journey north to take in an impressive list of famous landmarks including Lake Quill and the Sutherland Falls, or the sheer and dramatic scenes of Milford Sound from above, the majestic Mt Tutoko and the Ngapunatoru Plateau for a glacial landing.

While these experiences feel intrepid, they are actually extremely accessible for most people and families. Escape from the rush of the modern world and spend a moment in time to soak up the sheer beauty of an untouched wilderness.
A final word from Bard himself: "Kia ora koutou (greetings to you all). You know…..when I am out exploring Fiordland National Park with guests and they are struck with the raw magnificence , many of them comment about how lucky I am to call this place home. I am fortunate that I can hike in my backyard whenever I feel the need to beat the feet, but I truly consider myself lucky that I get to connect with people from all over the world and share the buzz they get from connecting to my home".
We suggest you stay at Cabot Lodge whilst exploring the Fiordland region. Renowned for its genuine, homely hospitality from a fifth-generation farming family, Cabot is set on 2000 acres of private farmlands, overlooking the dramatic Fiordland landscapes. Relax here whilst soaking up your surroundings and recounting your adventures from the day!