When most people think of New Zealand, they think of our North and South Islands – the biggies. But those in the know agree that hopping around New Zealand's smaller islands can offer so much more. We've rounded up the five best islands to add to your bespoke New Zealand itinerary. With each so different you can happily pick and mix one or two into your journey, or better yet, experience them all!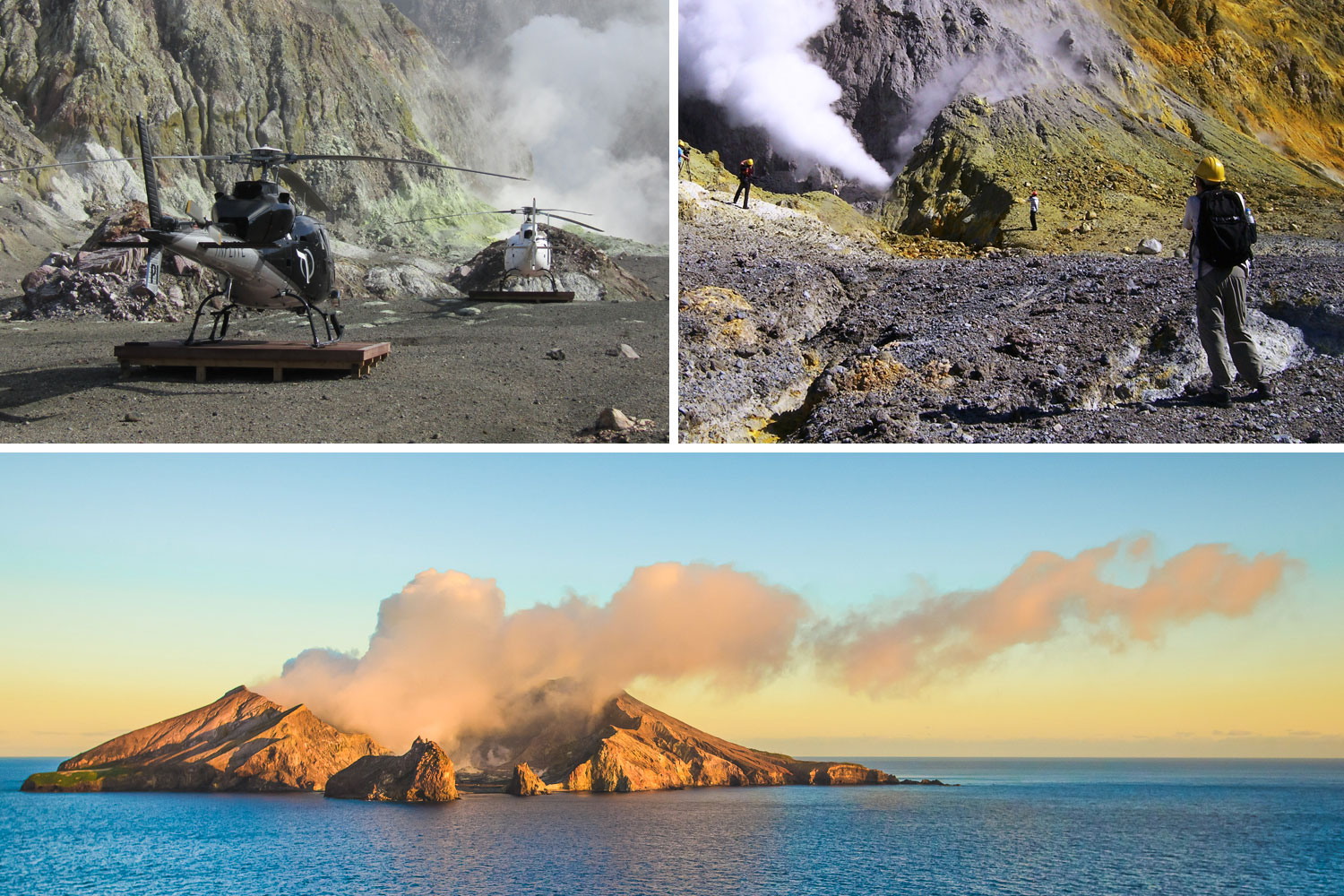 White Island is an actual, active volcano, just off the coast of Whakatane in the north-east part of New Zealand. Reminiscent of a burning moonscape, this island breathes, roars and hisses from steaming vents, releasing 800°C toxic gases. The full Maori name for the island is 'Te Puia o Whakaari', which means 'the dramatic volcano' and the name is well earned!While not an island you'll want to reside on, we suggest you first settle in at the luxurious Huka Lodge, then board your helicopter directly from their lawn, heading out over the incredible landscape of New Zealand's most active geothermal area across the Bay of Plenty, before landing directly on the active volcano island.
You'll be fitted with hard hats and gas masks before being guided on an exploration of the crater floor. Experience roaring fumaroles, sparkling sulphur chimneys, bubbling pools of mud and the spectacular main crater vent.
Marvel at the beauty of nature in its most untamed state as you walk across the island's wild, lunar landscape with active geothermal steam vents, bubbling mud pools and the sombre remains of an old sulphur mining factory.
Not for the faint-of-heart, this is truly an extraordinary island experience.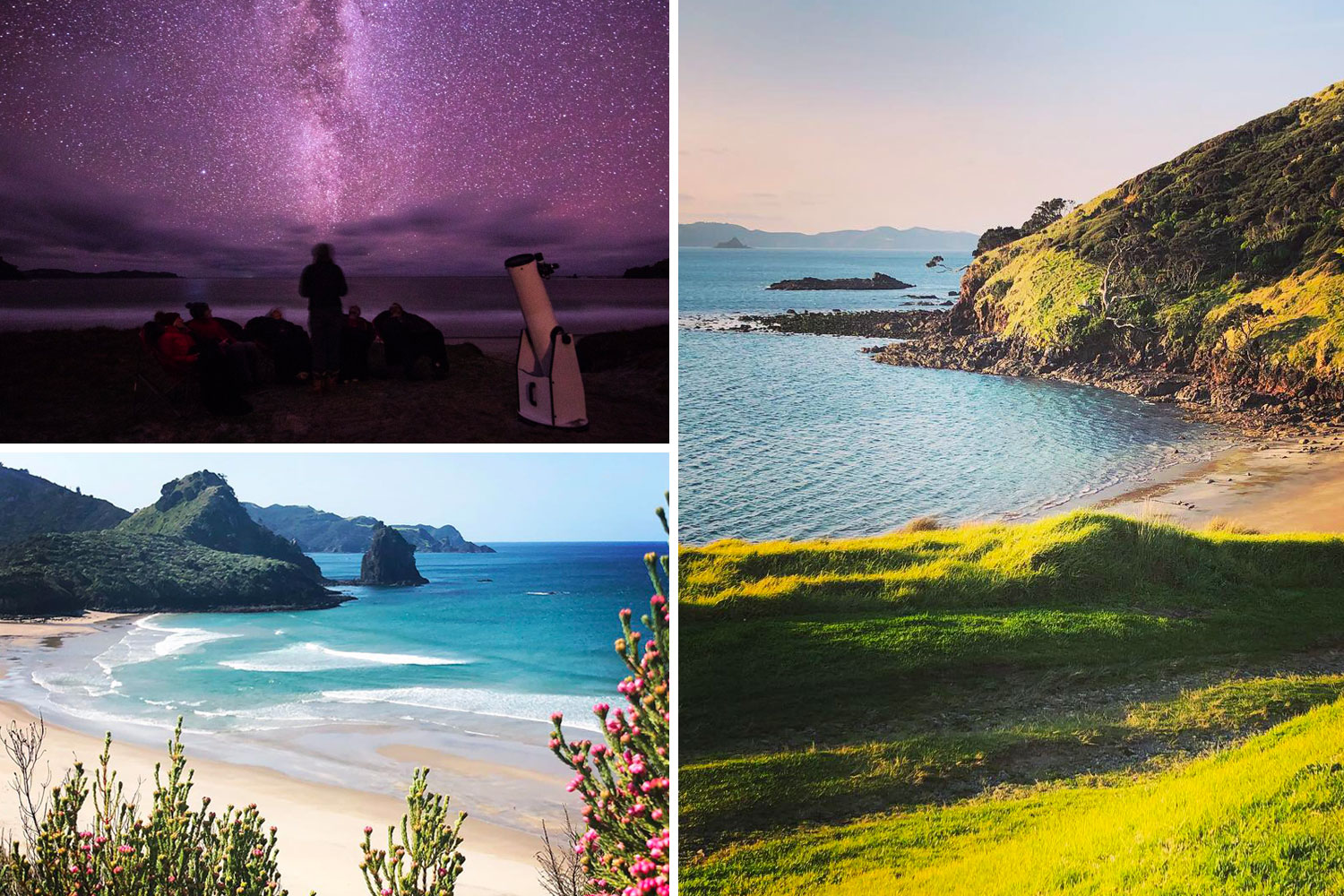 They say Great Barrier Island is like New Zealand of yesteryear. We think you'll love the relaxed pace and warm welcoming lifestyle of this little world apart. This is a place where you wave to everyone you pass on the road, many people volunteer for causes close to their heart and the sense of community is physically tangible. Neighbours swap home-cooked bread and fruit among themselves and many of the 1000 residents have multiple interesting jobs; from the local fireman, arborist, tour guide and surf life saver to the school bus driver, stargazing expert, local art shop and holiday home manager.
On Great Barrier – the island is off the grid and runs mainly on solar power – there are no street or traffic lights. In 2017, it became the third Dark Sky Sanctuary in the entire world (Dark Sky Sanctuaries are recognised by the International Dark sky Assocication as the darkest of all Dark Skies). Great Barrier Island is the perfect place to appreciate the pure, elemental beauty of the vast southern night sky, where thousands of stars and planets twinkle brightly, without any urban light pollution dulling your cosmic view. Deborah Kilgallon and Hilde Hoven are directors of Good Heavens, a company which offers Dark Sky stargazing experiences. They will guide you through the Milky Way, the Southern Cross and many other constellations and celestial objects. They also share fascinating Maori legends and how they relate to the night sky.
But there's plenty more to Great Barrier than an amazingly starry sky! Known for some of the best beaches, fishing and surf New Zealand has to offer, this island is a haven for bird life and more than half the island is covered in protected native bush, offering plenty of wonderful walking tracks. Explore the island from your comfortable base at Trillium Lodge, run by descendants of one of the original Great Barrier pioneer families.
Poor Knights Reserve Islands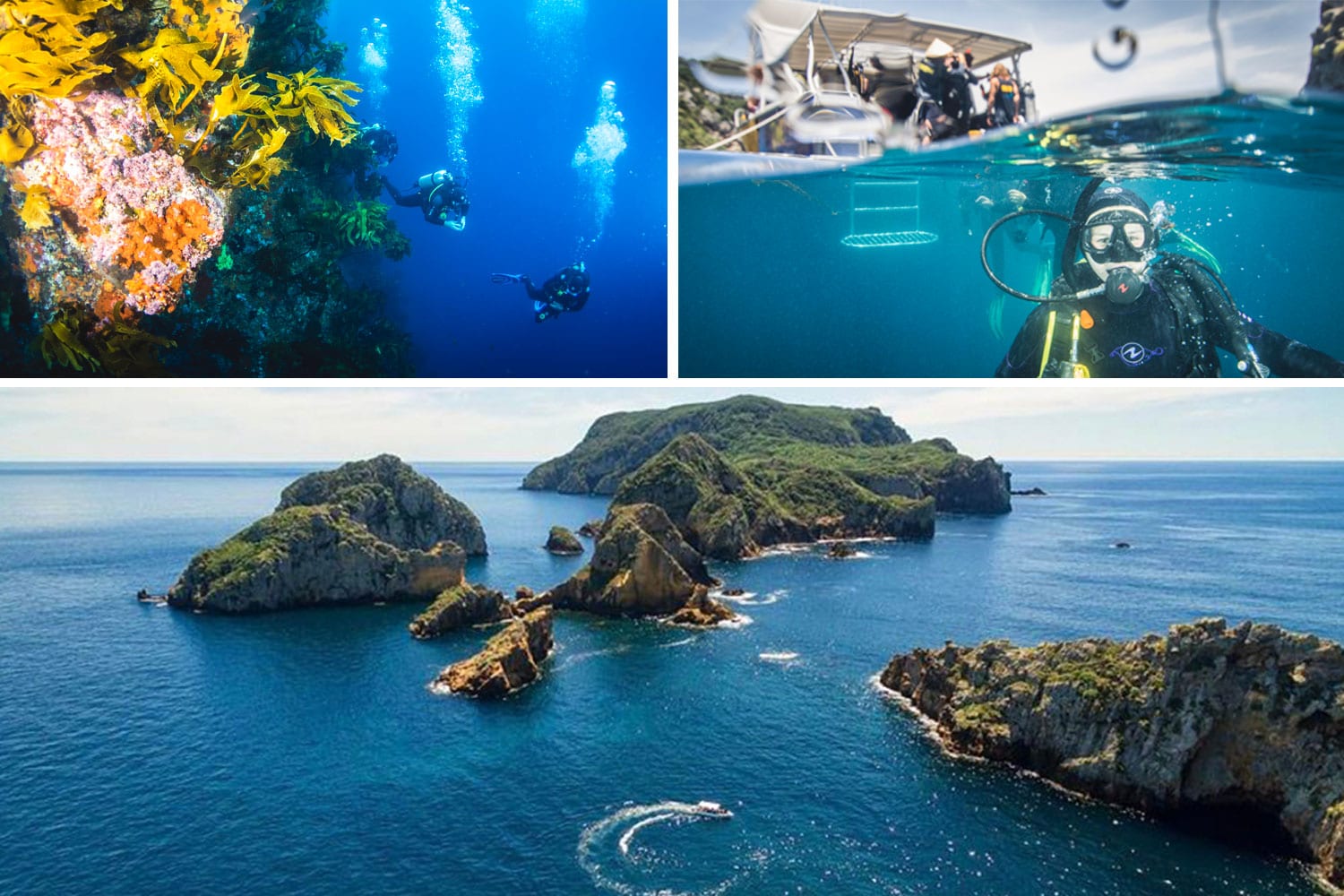 In the warmer waters of Northland, 23km off the Tutukaka Coast, the Poor Knights Islands are Internationally renowned as one of the premium dive destinations worldwide.
The islands themselves were formed by volcanic activity 11-million-years ago and are a protected Nature Reserve. The pristine surrounding waters are a thriving Marine Reserve with a myriad of spectacular drop offs, walls, caves, arches and tunnels, providing a great variety of habitats to explore and marine life to discover for divers at all levels of expertise.
From sunlit waters and kelp forests, to sponge gardens and gorgonian fields inhabited by large schools of fish, shellfish, urchins and anemones and even black coral in the lower reaches, the Poor Knights offer an extraordinary variety compressed into a relatively small area.
There's plenty of visual stimulation for those who prefer to stay on the surface too, thanks to the stunning coastline, dolphins, orca and other plentiful marine life.
Stay in a coastal luxury lodge just a short boat ride from the Poor Knights at the acclaimed Helena Bay Lodge.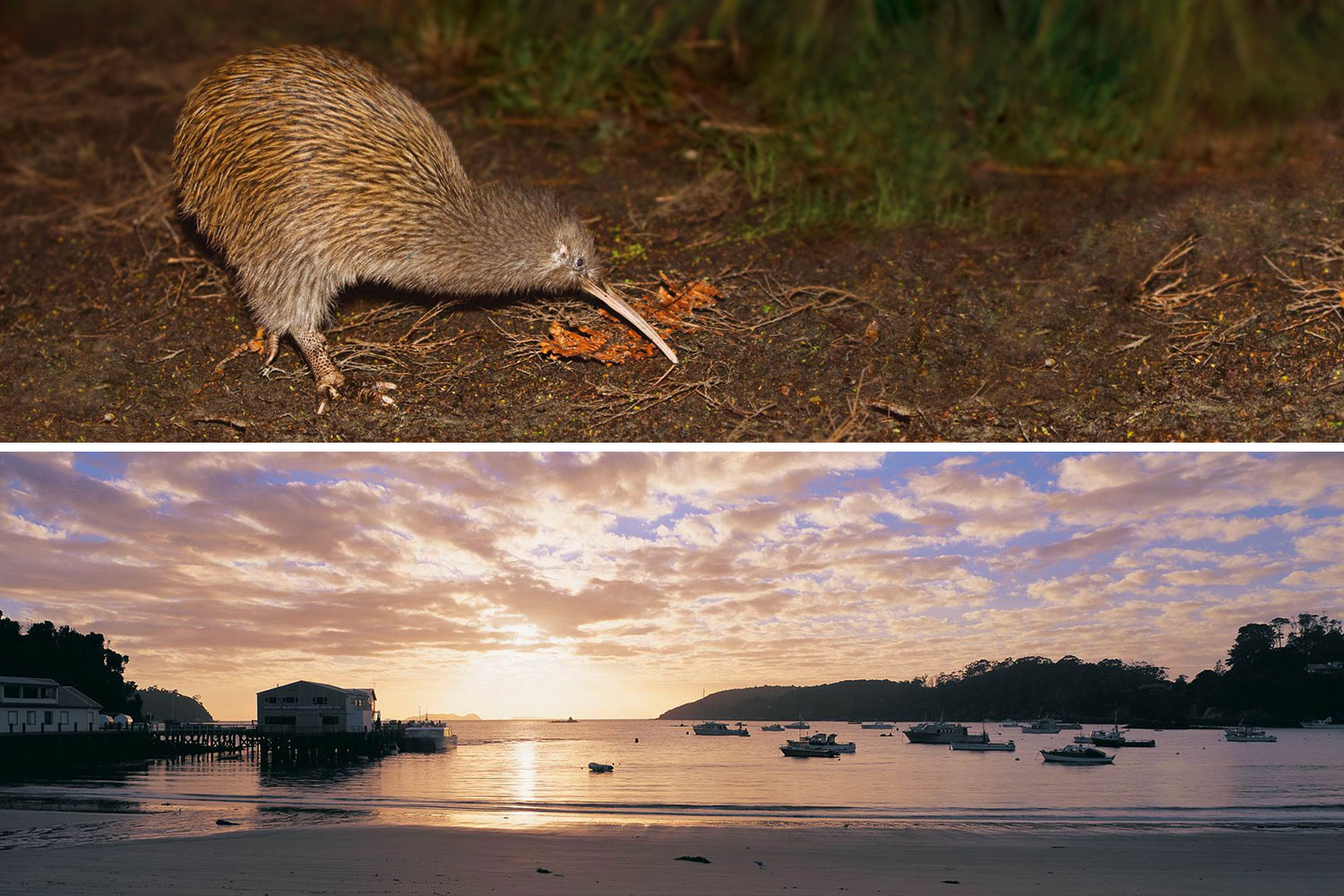 Unspoilt and deeply relaxing, not to mention incredibly beautiful, Stewart Island is a showcase for untouched New Zealand.
The third largest island, after (the imaginatively named!) North and South, Stewart Island is situated 30 kilometres south of the South Island, across the Foveaux Strait. In the Māori language, it's known as Rakiura which means 'the land of glowing skies'. You'll get an inkling why if you get to see the Aurora Australis which often appears in these southern skies.
Over 85% of the island is National Park and most visitors come for hiking and birdwatching. Guided experiences such as the Stewart Island Wild Kiwi Encounter or Ulva's Kiwi Spotting offer you good chances of spotting our notoriously shy national icon, the kiwi.
As daylight diminishes and dusk sets in, venture by torchlight through native forest with the stars and forest night sounds around you on your kiwi-spotting adventure. After about 45 minutes' walk, the track emerges onto Ocean Beach – a wide sandy beach is where kiwi are often found feeding among the grasses and seaweed. Gazing up to the Milky Way of the Southern Hemisphere stars above you and the roaring ocean waves beind you, here you'll gather quietly in the darkness and be one of the few people who can say they have seen the nocturnal Southern brown kiwi searching for their dinner.
After an evening exploring in the fresh air you can happily return to your boutique lodgings at Church Hill for a restful and refreshing night's sleep at the southern-most inhabited island in New Zealand.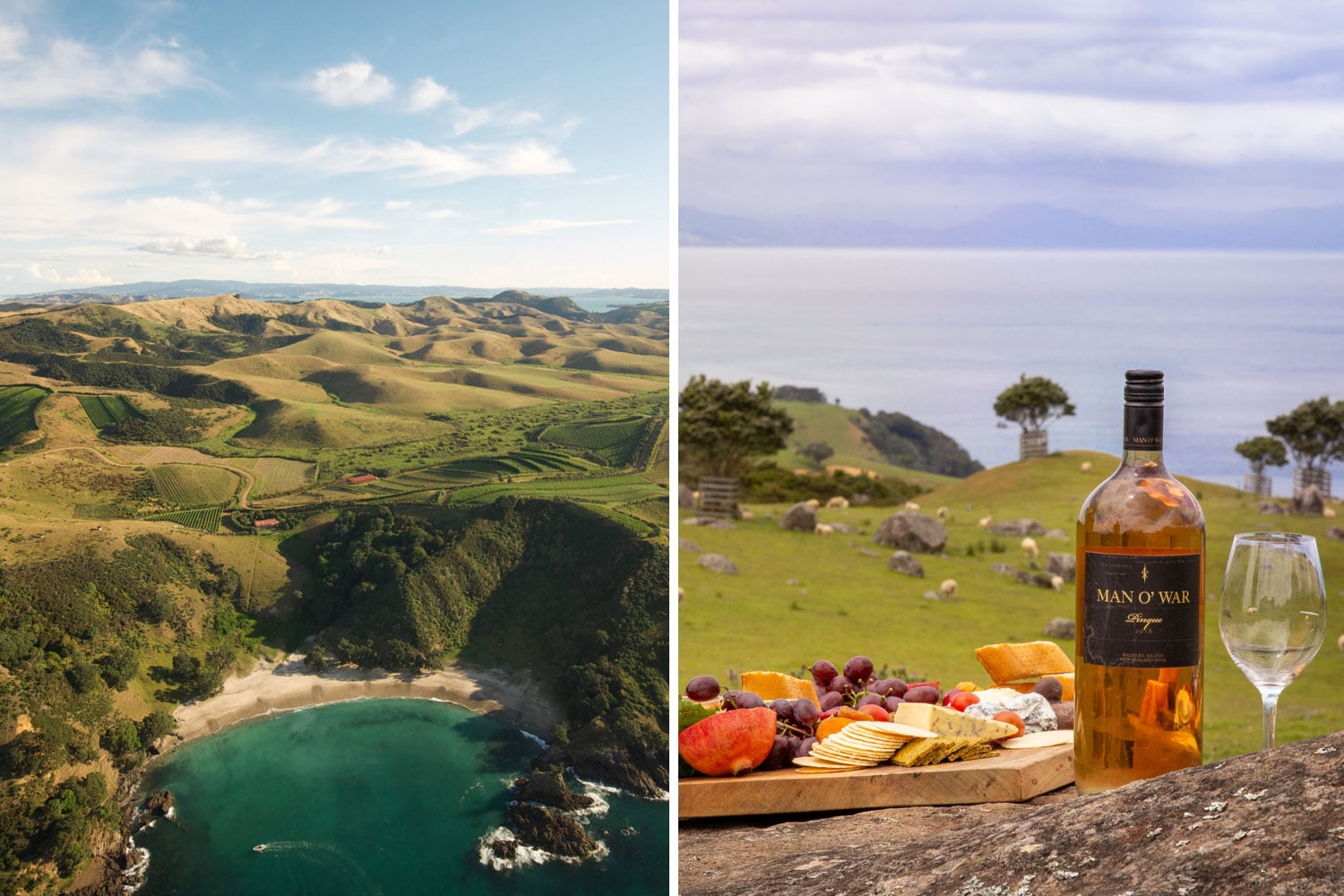 We couldn't list New Zealand Islands without a mention of Waiheke Island. Perhaps the most famous of the smaller Islands, there's no better place to enjoy the combination of fabulous local wine, gourmet cuisine and stunning island scenery than Waiheke! And what better way to explore it than with a private, luxury food and wine experience hosted by the friendly, knowledgeable team at Hopara.
Taste locally grown and pressed olive oil in the private olive grove, savour local honey directly from the hive, learn how to shuck fresh oysters, then enjoy them fresh from the ocean along with a chilled glass of champagne.
Discover the Man O'War Farm and Private Vineyards accompanied by your very own local wine expert for an exclusive wine tasting on site, and access to the most remote & private beach on Waiheke Island with your local guide.
Animal lovers can enjoy an afternoon exploring over 1000-acres of coastal farm with a guided horse ride, even swimming with horses on the right kind of tide, or perhaps a relaxed afternoon at an exclusive private residence enjoying a tea-making ceremony or gin and perfume experience is more your scene?
Finish off your unforgettable day with after-hours exclusive use of the incredible Tantalus Estate restaurant – with a 7 course degustation menu, either al fresco under the wide skies in the vineyard, or on cooler evenings, cozied up in front of the roaring fire.
As the day draws to a close, the luxuriously appointed accommodation at The Boatshed will beckon, so you can drift to sleep after a day well spent.
Image Credits
White Island:
1.2. White Island Tours
3. James Stanbridge
Great Barrier:
1. Carol Comer
2. 3. Emma Bell
Poor Knights:
1.2. Dive! Tutukaka
3. Ara Roa Villa and Boutique Lodgings
Stewart Island:
1. Real Journeys
2. Stewart Island Lodge
Waiheke Island:
1.2. Hōpara