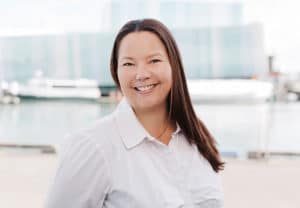 Industry & Media Release – 18 May 2018
IDNZ are delighted to announce Audrey Honiball's new role as Manager FIT in IDNZ's growing Bespoke Journeys team. Audrey has over 15 years' experience in the tourism industry and has been a valued member of the IDNZ team since 2011.
Previously a Key Account Manager at IDNZ, Audrey's prior experience in the hospitality industry in South Africa as well as on international cruise liners as an onboard Shore Excursion manager means she is well placed to take on this new FIT Management role.
Passionate about furthering her career in Tourism, in 2011 Audrey immigrated to New Zealand with her husband, joining IDNZ within the Cruise Department. Audrey moved to the FIT department in 2017, prior to the launch of IDNZ Bespoke Journeys, and has been integral to the growth of this new arm of the company.
Audrey's new Manager FIT role sees her overall in charge of the ever-growing FIT department, servicing agents within the luxury FIT market. A team leader, Audrey's goal is to grow the department, focusing on bespoke itineraries, luxury experiences and guest satisfaction.
The newly created role signifies IDNZ's commitment to delivering excellence across FIT, Cruise and Destination Management sectors. Audrey and her team are also currently looking for a Junior FIT Assistant to join the team.
The IDNZ team are looking for someone seeking a new challenge who is outgoing and very detail orientated. This role has the potential to grow in the desirable Luxury Tourism Market. Please view the Job Description for this role here.
Please feel free to forward this role description to potential candidates. Applicants may apply by email.